ARTOX Hobby – an economic solution for your laundry chute
                     
ARTOX Hobby                   +                 1x collar
Extension to plastic pipe
Would you like to have a laundry chute in your house, but you find the modular system too expensive? We have a patented solution for you with the ARTOX Hobby extension, which can be easily installed on any plastic or other piping that has a diameter of 300 – 315 mm and is commonly used for air conditioning, ventilation or sewage. The internal part will never reach the aesthetic perfection of stainless steel, but the external appearance will be virtually invisible from the rest of the wall and will significantly reduce your costs, which, as a part of the total financial budget of the whole building can make a difference in deciding whether or not to install a chute system.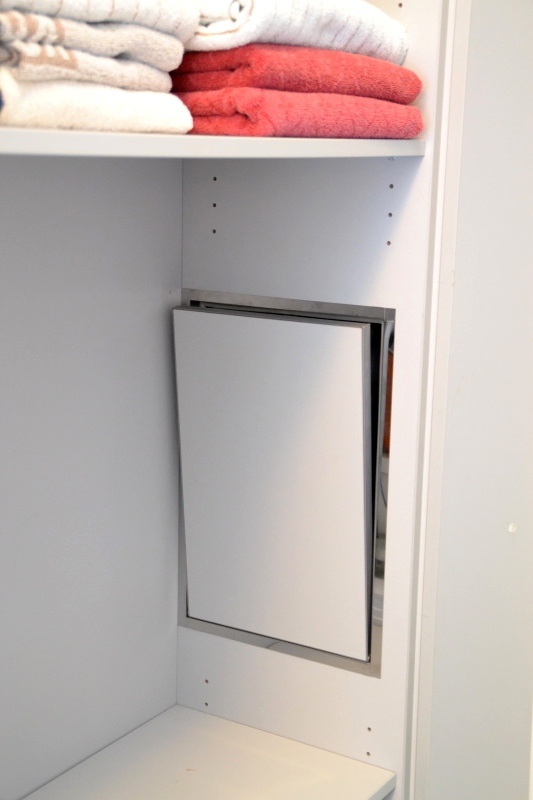 The ARTOX Hobby extension is made in such way that any original vertical ARTOX door, including the most popular type – the Quick Touch door - can be installed in it. When the door is closed, the wall will reveal no difference between the original stainless steel duct pieces and cheap-looking plastic prefabricates.
Another great advantage of this alternative, apart from the lower price, is the simplicity of installation that can be done by an averagely skilled person or your plumber. The ARTOX Hobby extension can be attached directly to the pipe with screws using the standard STL-050 collar from the ARTOX offer. It can also be attached using screws in the openings in the sides of the extension. We recommend combining them to address the varying accuracies of the circular diameters of plastic pipes from different manufacturers. Because the extension can be fixed to the pipe with two collar halves, you need only one STL-050 piece. We recommend using a standard angular grinder with a steel cutting wheel to cut an opening in the plastic pipe. The general look of the border between the ARTOX Hobby metal extension and the opening in the plastic pipe can be improved by carefully smoothing the cut with a standard file. Small imperfections can be fixed using a silicon sealant of the corresponding colour. It is recommended to have the intake door inserted in the extension piece when installing the extension and closing the chute.
Rather than leaving the chute ending in the technical room with an unsightly cut, you may wish to use a stainless steel collar from the ARTOX Hobby offer range, which can be simply glued to the end, while completely changing the look.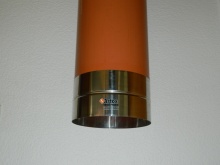 STL-056-Hobby       
Stainless steel collar for termination of the plastic chute
products protected by UTILITY MODEL